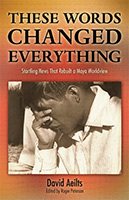 These Words Changed Everything
Startling News That Rebuilt a Maya Worldview
by David Aeilts (edited by Roger Peterson)

Order the book now!
Order These Words Changed Everything now!

David Aeilts, Author

David is a business journalist and member of Wooddale Church (Eden Prairie, Minnesota), which has supported translation efforts among the Chamula people for 30 years. Dave is available for speaking and interviews, and can be reached directly via this contact form on his author's website, WordsChangedEverything.
Roger Peterson, Editor

Roger is the Founder/President of STEM Int'l, an engaging speaker, and oft-cited author in Christian short-term missions (see bio). Roger is also availble for speaking and inverviews in his role as publisher & editor of These Words Changed Everything, and in his role as lead co-author of Maximum Impact Short-Term Mission and other authored mission publications. Roger is also available for teaching, preaching, mission conferences, and Board consultations regarding Christian missions, short-term missions, Christian leadership (Roger's undergraduate degree is in Organizational Leadership), and other Biblical topics. Kindly use our General Inquiry Contact Form to get in touch with Roger.

What's the Book About?
The Chamulas of southern Mexico had little hope. Descendants of the once-proud Maya Indians, they were enslaved by Spanish conquistadors to build a great city and its cathedrals. Centuries later the majority Ladino population continued to discriminate against them.
Chamulas kept themselves poor and wretched by practicing witchcraft and ritual alcoholism within a system designed to keep any one man or woman from rising above the rest. To protect themselves, the tribe kept outsiders at arm's length and violently guarded their traditions.
Fear was perhaps the greatest price Chamulas paid for the counterfeit comfort of tradition — fear of fellow Mayas and fear of gods who required unwavering obedience and sacrifice.
Then it happened. Chamulas finally met their written language — written words in their own mother tongue. These words caused tens of thousands to abandon their allegiance to death and poverty. These words forged prosperous new lives and permeated communities with uncompromising hope. For the Chamula people, These Words Changed Everything.
"This book contains the thrilling story of how God used Ken and Elaine Jacobs to bring His Written Word to tens of thousands of people living in southern Mexico. … The fire of evangelism [now] burns as brightly in that once hostile region as anywhere on earth. You will love this exciting true story!"

—Tim LaHaye (Author & Minister)




"The Chamula story belongs among the greatest of mission epics. If God can reach the Chamulas with the Good News of Jesus Christ, then God can reach any group of people. And God did!"

— Leith Anderson (NAE President & Wooddale Church Pastor)